If you're a modern-day student, you're likely technologically fluent and keep your smartphone within arm's reach at all times. But are you making the most of your device? If, as a student, you still haven't taken advantage of a mobile scanning app, there's a wellspring of potential for you to explore and benefit from (both academically and personally)! In this blog post, we'll look into the benefits of mobile scanning, and specifically the iScanner app for students.
Digitize on the Next Level with AI
Lecture notes, textbooks, handouts, paper assignments—you name it, all are much more easily managed in a digital form. iScanner, just like any other scanning app, does away with the need to run to a printing shop every time you need to scan. Some might say that a phone camera could do the trick, and while technically, both a dial-up modem and fiber-optic broadband can get you online, the quality, efficiency, and user experience would be very different.
What sets iScanner apart from a phone camera and other apps is that it uses the power of AI. As a result, you get a crisp scan in seconds without needing to worry about shaky hands, angles, or the background. The app's AI algorithms have been trained to:
Remove visual noise which makes scans clearer and cleaner

Detect the document boundaries even against similarly colored backgrounds (i.e., a sheet of paper on a white table will be detected)

Press the shutter button automatically once the AI detects an optimal shot

Crop automatically

Correct perspective distortions and fix the geometry of the page if the picture was taken at an angle

Straighten any skews and warps on the page if it wasn't lying completely flat (which is often the case with thick textbooks)
However, high-quality scans and efficiency aren't all that the app has to offer.
The Benefits of Mobile Scanning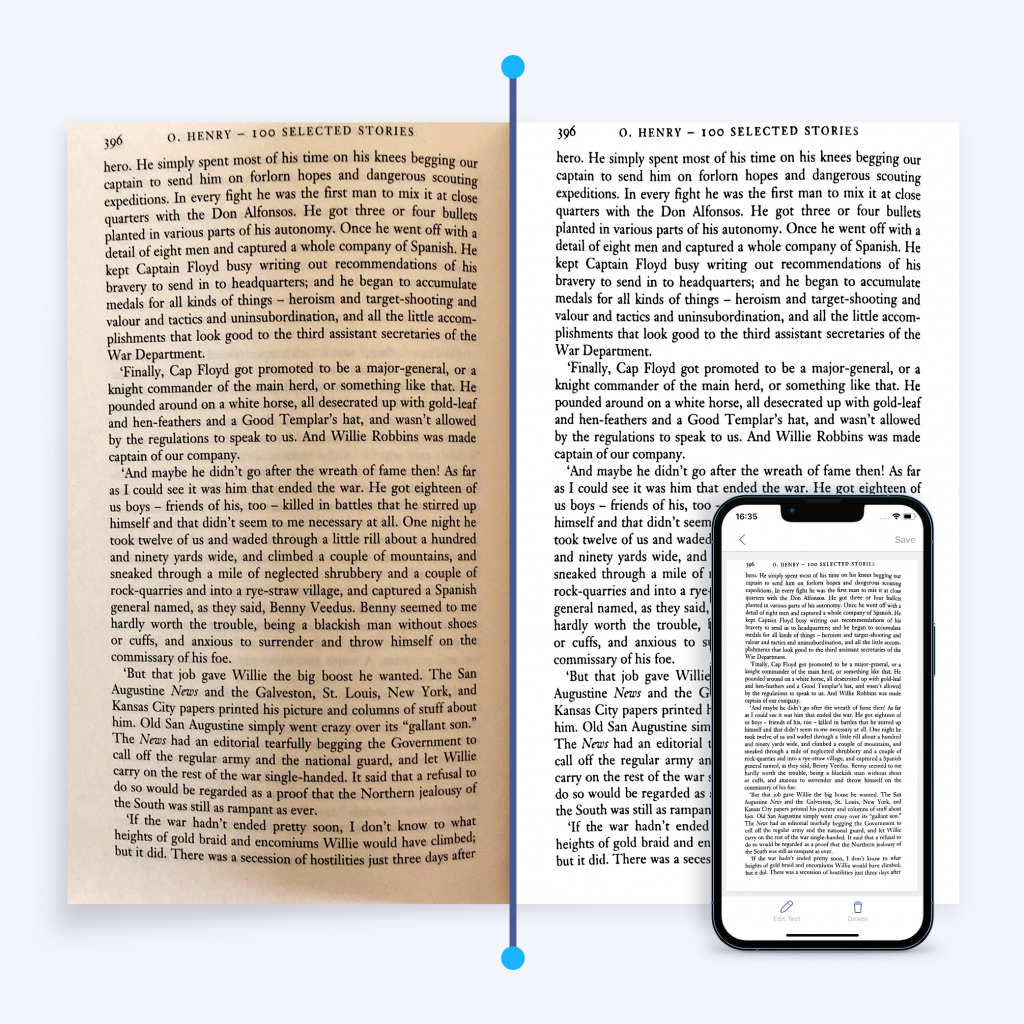 Turn Your Images into Editable, Searchable Documents with OCR
iScanner uses an OCR algorithm that we've designed from scratch. It's been trained to work accurately even when there's insufficient light or the source document is not in pristine condition. It can also handle handwriting and diacritic marks (e.g., ȁ, ȗ, ĉ, etc.) and recognizes 23 languages. The cherry on top is that it can preserve the original document formatting—i.e., paragraphs, headlines, and columns—so you don't need to spend ages editing it.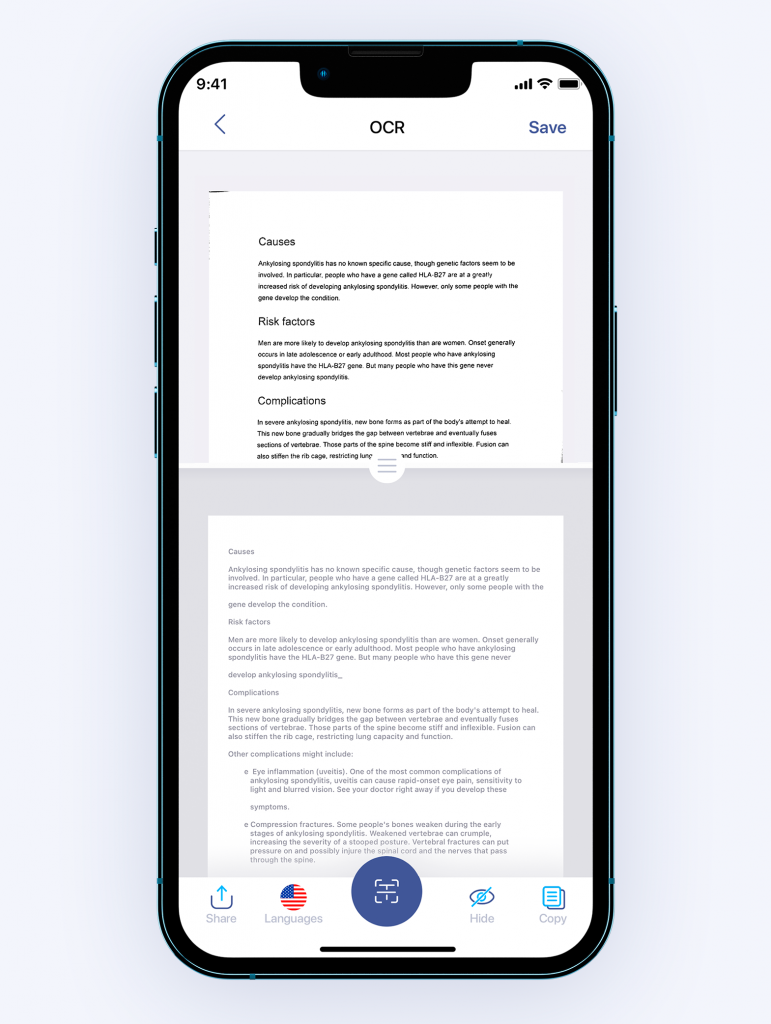 Pull Text from Any Image and Add It to Your Document
One of the benefits of mobile scanning with iScanner is the built-in Live Text feature. With Live Text, you can pull text from anything you're pointing your camera at! If you missed a lecture, you can capture text from a peer's lecture notes and turn it into a searchable document without even needing to scan it first.
Live note-taking can become much more efficient with Live Text too. You can pull text from blackboards, presentations, and handouts and paste it into your notes. Makes things a great deal easier if you're collecting information from multiple sources.
Live Text can also streamline referencing and citations. If you need to reference a book or an article in your paper, simply point your camera at the citation info box and the app will automatically copy and paste everything so that you don't have to retype it for your footnotes.
Access Your Files from Anywhere
Accessibility is one of the main benefits of mobile scanning. The iScanner app works on iOS and Android devices as well as desktops. However, the highlight of it all is that you can synchronize your files even if your devices run on different platforms because the app comes with free cloud storage and a cloud sync feature. Plus, iScanner stores offline copies of your documents, meaning you'll be able to continue work even if you don't have a connection.
What's also great in terms of accessibility is that you'll be able to access your files on any device, not necessarily your own. Simply log in with your iScanner account and you'll have all your files and folders at your fingertips. This can save the day if your battery dies or if, God forbid, your device is lost or stolen.
Take the Quality up a Notch with Color Filters
Color filters in iScanner can be useful in several ways. What's great about them is that you have a slider control that manages a whole array of parameters like brightness, contrast, saturation, hue, and more. By moving the slider, you can adjust several parameters at once and see the effect in real time.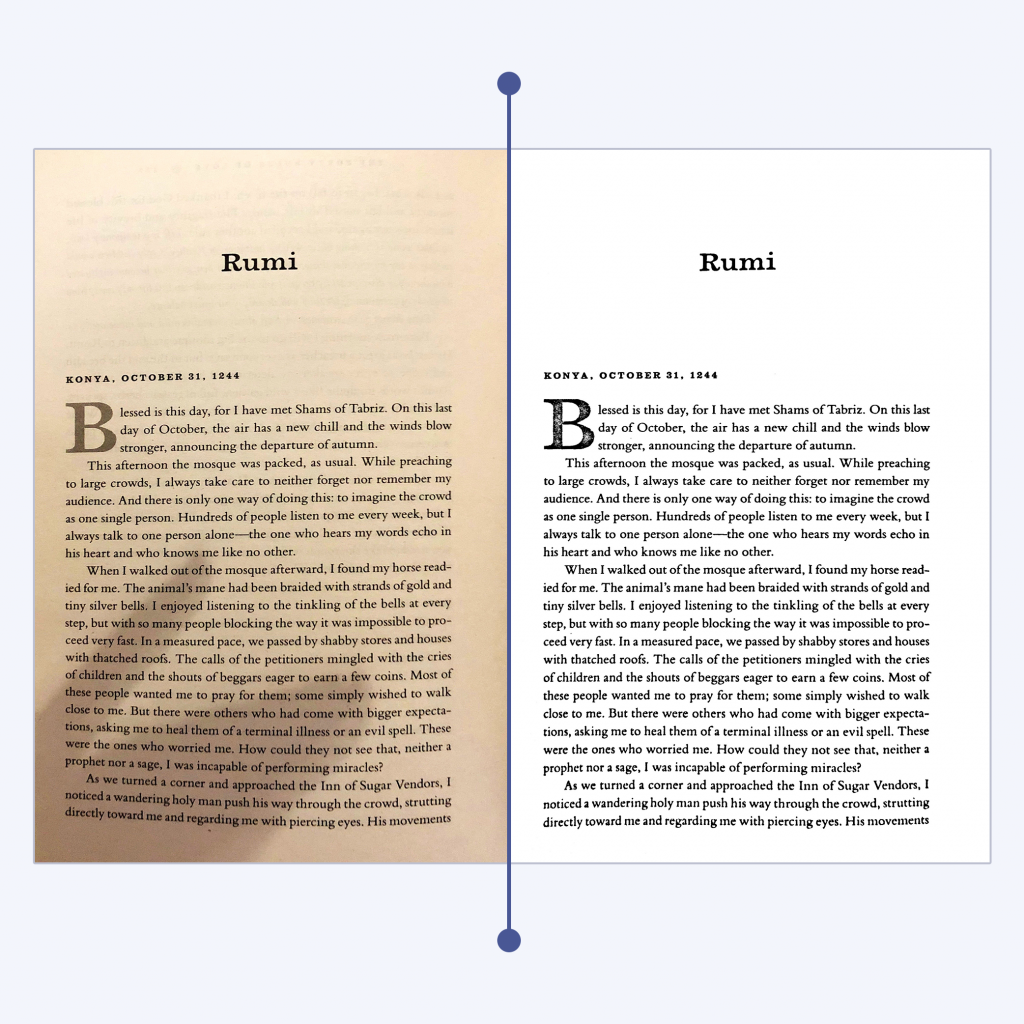 The black-and-white filter can improve legibility by increasing the contrast between the text and the background. It can be especially useful for documents or books with faded or uneven colors. The bright filter is very good for handwritten notes. It can give them a tidier, more professional look and instantly make the handwriting more legible. Plus, it can remove minor stains and smudge marks, which can come in handy if you left a coffee stain on a handwritten assignment you need to submit. The grayscale filter can be a game changer if you need to print a document with color images with a B&W printer.
Complete and Sign Forms Effortlessly
Whether it's an enrollment, registration, student financial aid, or a medical form, everything from text inputs to adding photos and vector graphics to e-signatures and emailing can be done in iScanner. Plus, the app has the autofill feature, meaning you can add and save all frequently requested information, such as your name, date of birth, email address, and phone number. Once you've done that, you can add those details to any form in one tap.
Annotate on Your Mobile Device
Annotation is a great way to engage more with the study material and improve comprehension and memory retention. In the iScanner app, you can easily highlight and add shapes and text boxes to PDFs on your phone or tablet. It can also help you better organize your notes by marking key passages for future reference. Being able to do it on the go can help you make better use of your time while commuting or waiting in line. Plus, thanks to the cloud sync feature, you won't need to manually transfer your annotations because all changes will be automatically saved on all your devices in real time.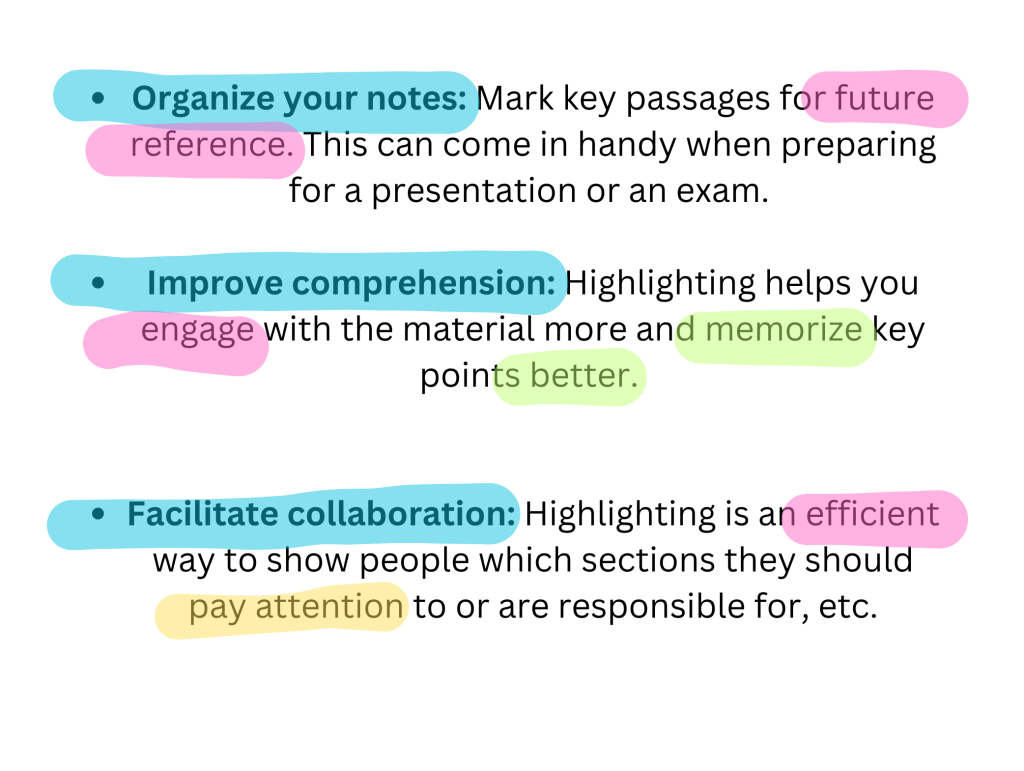 Manage PDFs Like a Pro
In iScanner, you can also do all sorts of things with PDF files on your mobile device for free:
Merge and split PDFs. You can easily combine several PDFs into one document, which makes it easier to handle and share. Plus, you can extract the pages you need from a lengthy document or a textbook.
Add a new page to your document. This feature can save the day if you realize at the last minute that some crucial information is missing from your paper and you don't have your laptop with you. You can add a new page in one tap and add text, images, signatures, or shapes right in the app.
Add page numbers and footers. In the app, you can also automatically add page numbers in three formats (1, page 1, and page 1 of x) and footers to all pages. Plus, there's an option to remove the page number from the first page, which is often a requirement for academic papers.
Solve Math Problems and Equations
iScanner has a Math scanning mode that can come in handy if you need to solve an equation on the go or want to be sure that your solution is correct. The process is super straightforward: choose the Math scanning mode, point your camera at the equation so that it's inside the blue frame, and take a shot. The app will solve it and show you the answer in seconds.
Share Easily and Streamline Your Studying
Lastly, with iScanner, you can easily share any document, hard-copy or digital, straight from the app. Email it, share via any messenger, or save it to your files. You can also print (if you must) directly from the app.
A Habit of Scanning: Good for You, Great for the Planet
On a final note, by adopting the habit of scanning everything, you're not just making life easier for yourself and streamlining your education. A scanning habit is also the way to a better future for our planet. To illustrate the point, if all students in the US abstained from printing one single page, it would help save 50 million sheets of paper. That's roughly 40 football fields of forest land! By choosing to scan instead of print, we can lay a path toward eco-conscious education and enjoy the benefits of mobile scanning along the way.