A Unique Distortion Removal Algorithm That Takes Scanning to the Next Level
Have you ever scanned a book spread from a voluminous tome? Then you know how difficult it is to get a high quality scan-copy out of that without a specialized book scanner due to the distorted perspective. What if you need to make a scan of a paper that you crammed into your jeans pocket?
Most of the paperwork we get by mail comes tri-folded and quite often jams up when we scan it. You waste time trying to unfold it and get rid of the creases to make it feed through the scanner. But, more often than not, it still jams up and you have to start over again.
But the good news is the future is now! We are excited to announce our newest development—the new Scan Straightener feature for distortion removal. The iScanner app can now deal with all the above-mentioned scenarios and more with little to no effort on your part. You don't have to straighten the paper. No need to worry about the right angle either. The AI algorithm will recognize text and document edges, eliminate distortions, and make a perfectly rectangular copy of your document in a snap. How does it do all that? Why, by employing a new dewarping algorithm that no other app has yet!
How the Algorithm Works
When you scan a sheet of paper that's been rolled, crumpled, or folded and unfolded several times or a spread from a voluminous tome, the text lines are likely to skew and warp. Not only does it make the scan visually unappealing and difficult to read, but it also makes it problematic for the OCR to recognize text due to character distortion.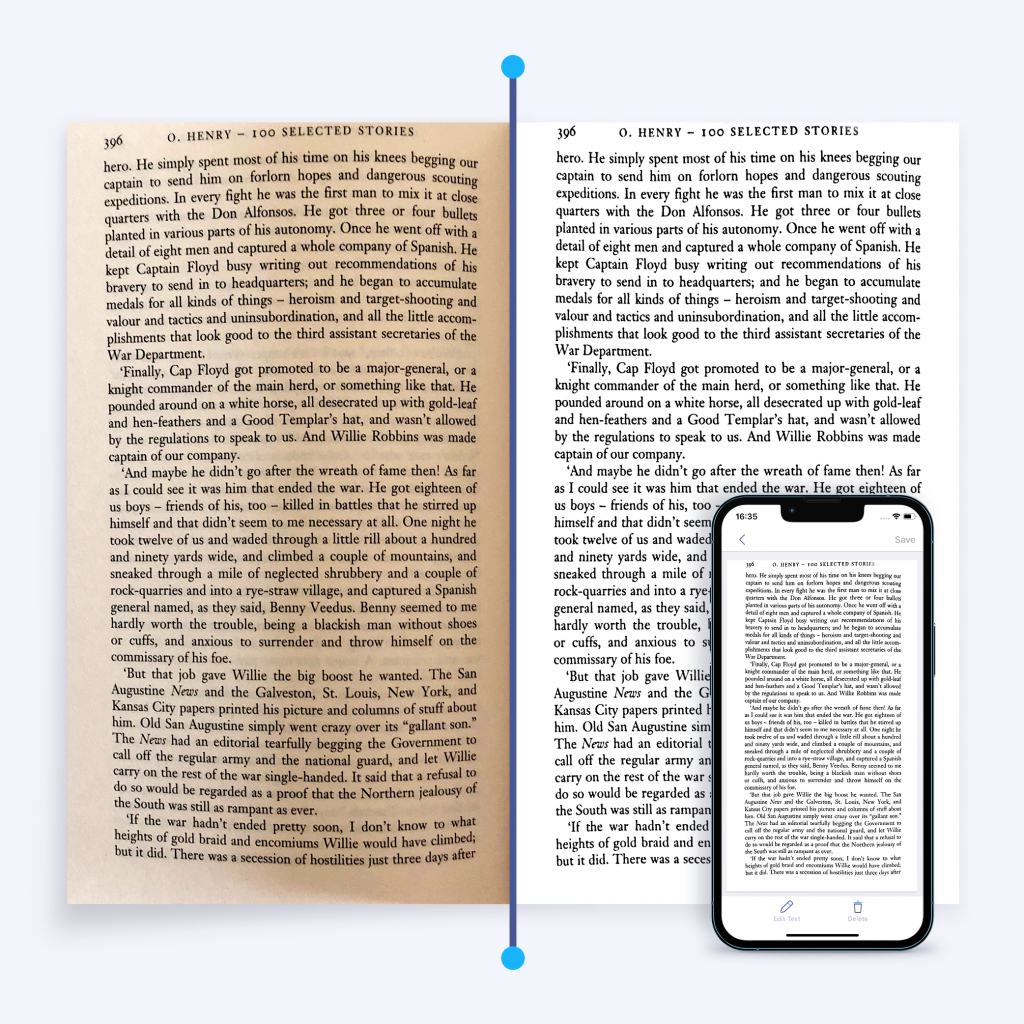 That's where the new feature comes to the rescue. The iScanner team has developed a new geometric dewarping algorithm called the AI Dewarping Model. This algorithm makes heavy use of numerical methods and optimization techniques. It produces dewarped, high-resolution images that allow for subsequent text recognition. As a result, you get a professional-looking scan-copy with all the original elements. Whether it's text, images, or tables, the app will accurately transfer them into an editable PDF file.
"Correcting less obvious distortions is especially important if you want the document to look as professional and clear as possible. Such small things actually matter a lot when you're applying for a job, for instance," says Matt Svetlak, VP of Product of iScanner.
Why Our Own Algorithm
Available open-source dewarping methods quite often fail when it comes to scanning documents with a complex layout (e.g., multiple columns) or a combination of text and images. It took an immense amount of work, looking at hundreds of possible scenarios, to find the right solution. A combination of neural network and analytical models, our new algorithm has proved to be effective at scanning documents with a variety of layouts.
Our approach is based on deep neural network learning and can be applied to all types of text documents as well as those that contain images and graphics. It's a feature that has no analogues so far in terms of accuracy, speed, and quality.
"Here at iScanner, we try to think of things that will make the app even more valuable for our users. And we know that, as always, the devil is in the details. We want our users to succeed by focusing on what's important while our AI takes care of tedious and less creative tasks," adds Matt.