What do banks, hotels, car rentals, government agencies, and hospitals have in common? They all want to see your ID card at some point. Medical establishments and government bodies can also request a scan-copy for their records. If you're wondering how to copy both sides of an ID card on one page, we've got a tool that makes it as easy and smooth as it can possibly be.
iScanner Has a Free ID Card Collage Feature
Both sides of the card will be on the same page. iScanner, a PDF scanner app, will place both the front and the flip sides of your ID card on one page, making it easier to share or print.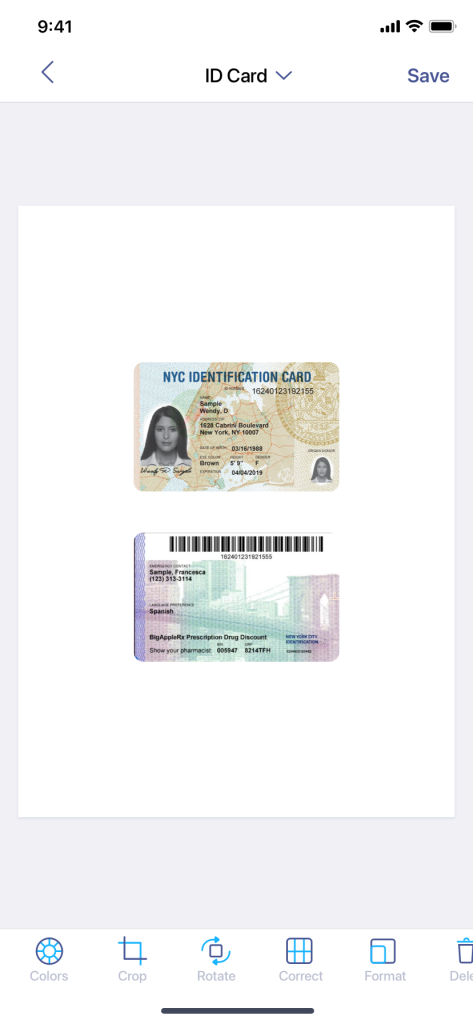 300 dpi resolution. With the app, you can choose the resolution in the settings. The 300 dpi + option means that your scans will be 300 dpi or higher each time, which is sufficient for all applications.
Your scanned ID matches the dims of your real ID. Select A4 format in the app, and your scanned ID will have the exact same physical dimensions as your real ID, if printed.
A perfectly rectangular and cropped image. With the app, you won't need to aim or even press the shutter button. iScanner's AI algorithm will detect the document boundaries and press the shutter once it gets a complete and sharp image. It will also automatically crop everything except the document itself out of the frame.
You can convert the image to PDF right in the app. No need to use any other software or app. Simply tap the Share button and choose PDF from the drop-down list. You can also share it or print right from the app.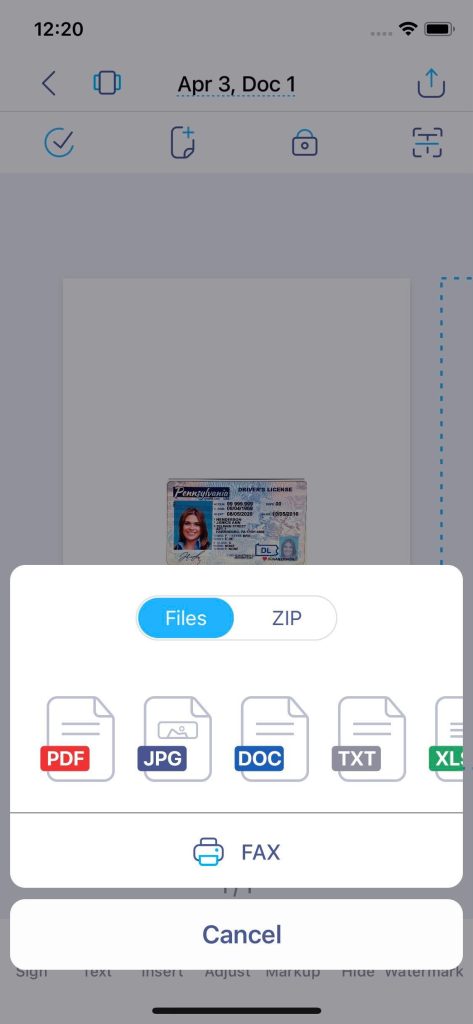 You can add an extra layer of security. To safeguard your privacy, you can protect your document with a password in iScanner before emailing it. This way, when your recipient receives the file, they will need to enter the password to access its contents. You can share the password with them through other means (over the phone or via another messenger). By taking this extra step, you can ensure that your personal data will remain safe, even if their email account is hacked.
Why Your Phone Camera Is Not the Best Candidate for the Job
Regardless of which institution is requesting it, using your mobile phone camera to make a digital copy of your ID card might not be the best idea. Here's why:
You don't know if the picture quality will be up to scratch. Most institutions require scans to be 300 dpi, but if you use your phone camera, you're leaving the resulting resolution to chance. Plus, it takes much more time and effort to get a perfectly rectangular image.
You'll need to crop. It's pretty much impossible to take a picture where the document occupies 100% of the frame. If you use your phone camera, you'll inevitably have to crop if you want it to look professional.
You'll need to use additional software to convert to PDF. Most recipients will be expecting you to provide a scan-copy in a PDF format. Even if you have the required software installed, it takes time to manually transfer the file and convert it.
How to Copy Both Sides of an ID Card on the Same Page in iScanner
Step 1. Open the iScanner app, or install it if you don't have it.
Step 2. Tap the blue plus icon at the bottom of the screen and then tap Camera.
Step 3. Choose ID Card mode from the list of scanning modes by tapping on it. Above the ID Card button, there will be a switcher that reads One Side. Tap on it, and it will switch to Both sides.
Step 4. Position your ID card within the blue frame. The app will automatically take a picture when the AI algorithm detects the optimal shot.
Step 5. Turn over the card, position it within the frame, and wait for the app to take a shot.
Step 6. Your scanned ID card will show as a small icon on the right. Tap on it. Both sides of your card will be on the same page. You can change the color scheme or adjust boundaries if you're not happy with the automatic detection.
You're all done! You can now convert it to PDF, share it, or save it to your files.
If you found this useful, check out what else iScanner can help with: