On the eve of Independence Day, we, as the App Store's most downloaded scanning app in the US, have decided to take a closer look at paperfree America. To do this, we conducted a nationwide survey to find out who uses mobile scanning most in the US and why.
Going paperless is becoming more and more popular by the year, and not only among zero-waste enthusiasts. Remote and office workers alike, as well as small business owners, and literally anybody who has to deal with bunches of receipts, invoices, bills, agreements, etc. are consistently getting sick of huge piles of paper.
The best way to cut down the amount of paper in your life is to adopt a habit of scanning. Among iScanner users, there are a great number of people who keep thousands of documents on their mobile phones. This helps them become paperfree and less reliant on office equipment availability since high-quality scanning isn't all the app does. You can also edit your PDFs, e-sign, and easily share documents in any messenger.
Who Uses Mobile Scanners Most in the US?
According to our survey, the highest percentage of mobile scanner users are professionals who often have to work on the go. The top categories among them are real estate agents, teachers, healthcare workers, researchers, engineers, catering workers, cleaning personnel, merchandisers, and logistics professionals. This makes perfect sense, as nowadays, we work a great deal with documents on the go. It seems so last century to be looking for an old-fashioned office scanner.
The second largest category of mobile scanner users in America are small business owners. Entrepreneurs have to deal with a huge number of various documents daily. For instance, they need to scan and keep receipts, bills, tax records, vendor contracts, employment agreements, payroll reports, etc. The best way to keep track of and not lose anything of importance is to digitize everything and keep it well organized on your mobile device.
The third largest group of people who regularly scan a lot in the US are students. It's possible that students might also be interested in the iScanner app because it has a handy Math tool which can solve math equations. However, being able to quickly scan tons of notes is even more important for success as a student in the modern education system.
In fourth place, we've got office workers, remote workers, and freelancers who often need to quickly scan documents on a daily basis.
So, if we summarize the results, the majority of American mobile scanner users use the app for professional purposes to help them manage paperwork. The actual statistics looks like this: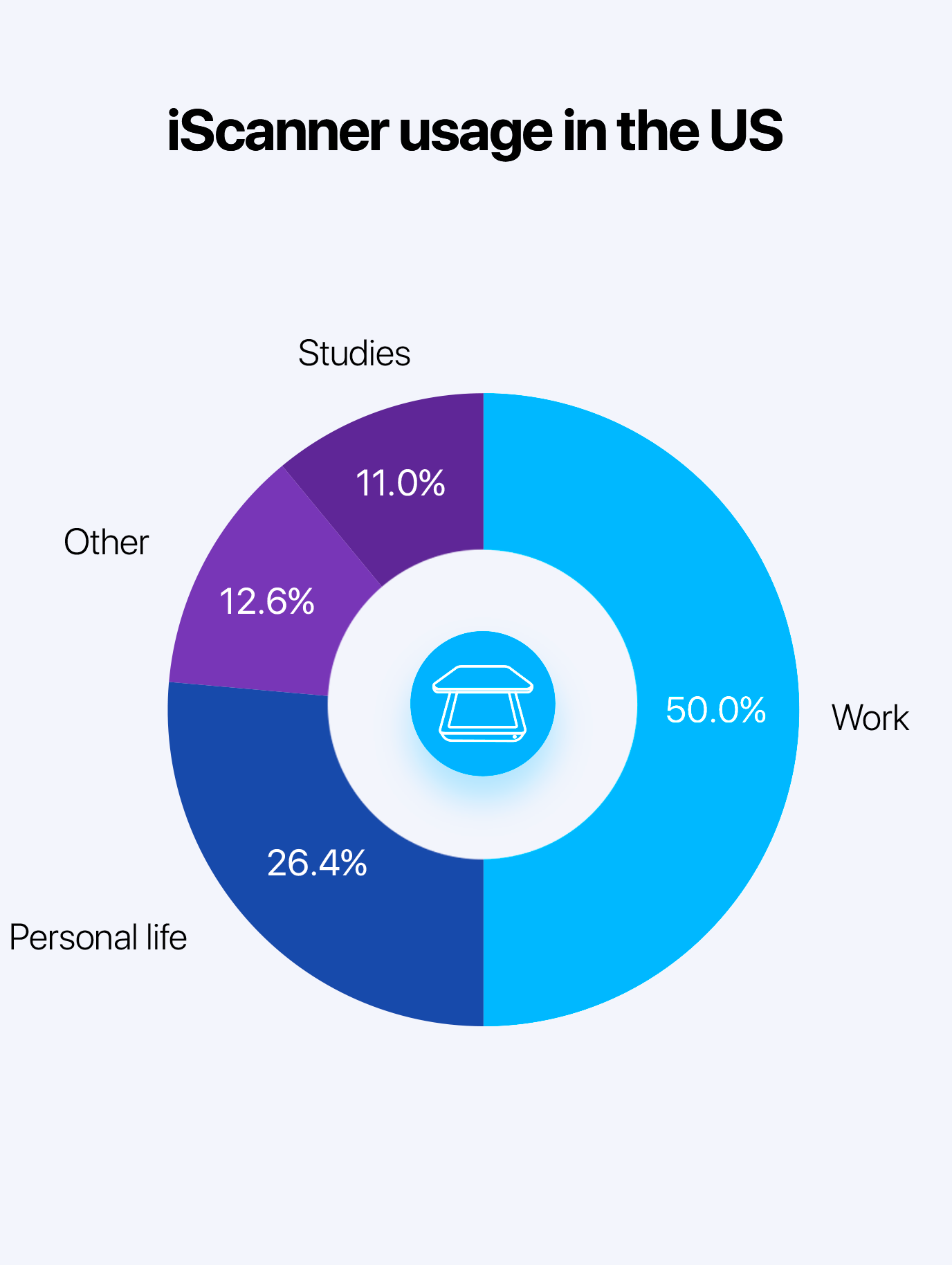 What Do Americans Scan Most?
Now, to the most interesting part of our study—let's see what users in the US actually scan. As we've already mentioned above, the majority use iScanner to manage work-related documents. Hence, the numbers look like this: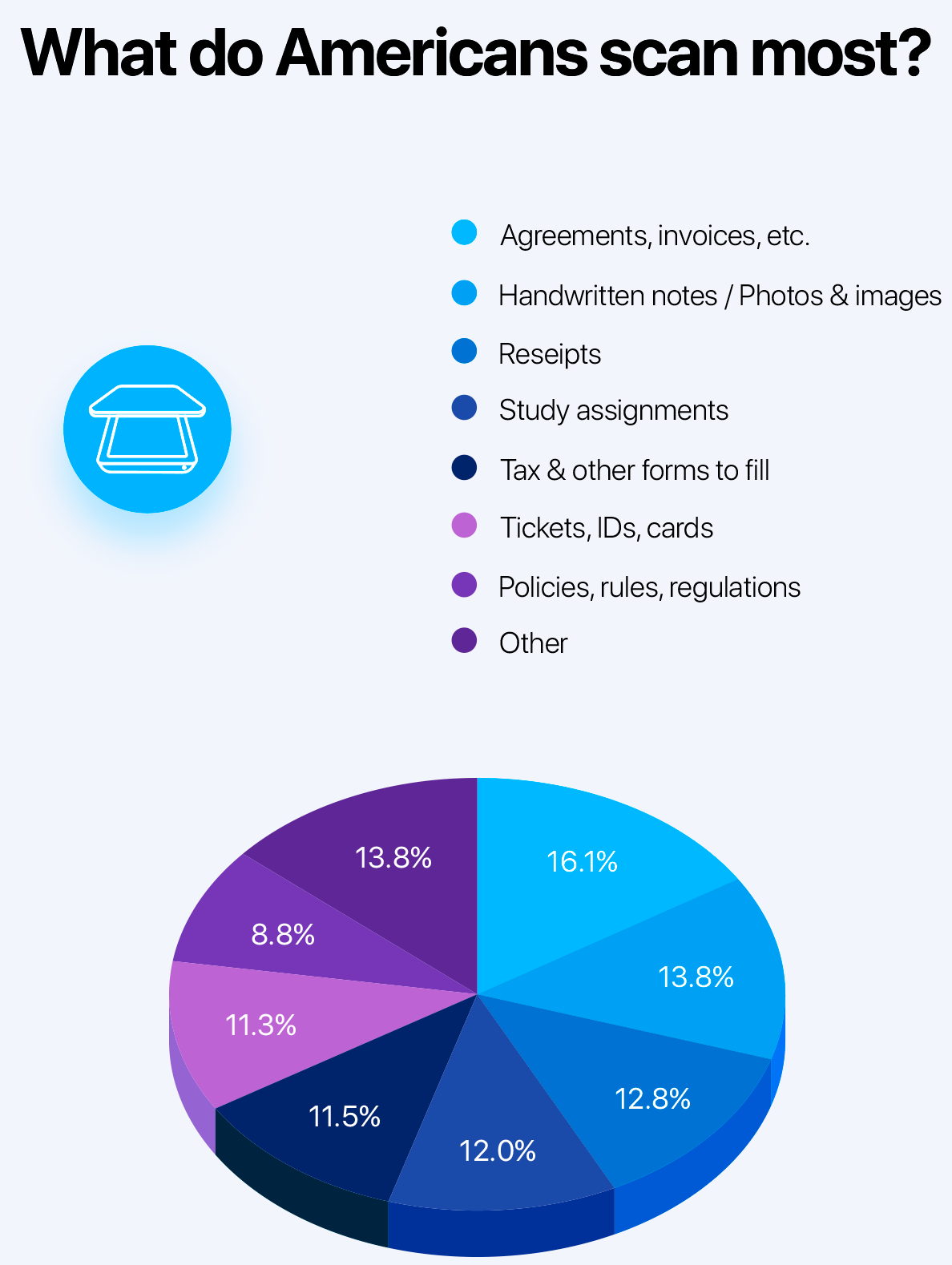 16.05%—Agreements with clients, invoices, etc.
13.8 %—Hand written notes/ Photos & images
12.8%—Receipts
12%—Study assignments
11.5%—Tax or other forms to fill
11.3%—Tickets, IDs, cards
8.8%—Policies, rules, regulations
13.75%—Other
As part of our research, we also asked Americans why they like mobile scanning. Here are the three most common responses:
It helps me not to lose important information
It makes me more productive and better at my job
I can easily make my documents look professional
Forecast of the Growing Usage of Mobile Scanners
Based on our research and the fact that remote work is gaining popularity, it's safe to assume that mobile scanning in the US will only show growth in user numbers.
First and foremost, it gives you mobility. It's great to be able to scan on the go, when you're traveling or on vacation and can't access your PC. Office scanners have long become old-fashioned and are seeing a consistent decline. On top of that, switching to a digital workflow is sustainable and eco-friendly.
Secondly, mobile scanners digitize your documents making them more functional, amendable, and easier to manage than a paper version. This way, users get improved and more practical version of their documents that could be used multiple times and amended in one tap. You can change dates, add e-signatures, text, or images, all on your smartphone.
Thirdly, the functionality of mobile scanners will only keep growing, adding more and more features. This means that mobile scanners are expanding beyond mere scanning. They are becoming full-cycle document editors and file managers, like iScanner for instance. Users will get to carry a whole office in their pocket, not to mention use other handy features. For example in iScanner, you can measure dimensions and surfaces, automatically count various objects, and solve math equations in seconds.
All in all, the trend looks very positive. We very much hope that the habit of scanning and digitizing will continue to spread, and the number of paperfree Americans will only grow.