Mobile scanning app reviews are abundant on the web. However, most merely scratch the surface, offering little more than This app turns your smartphone camera into a document scanner! (which sounds a lot like This car is amazing, it has four wheels!). This lack of depth is understandable, of course. Writing a comprehensive review requires a deep understanding of the capabilities and limitations of the apps, as well as the needs of mobile scanning app users. That's why we at iScanner thought that we were in a good position to write one. As they say, it takes one to know one. So, for those of you who wish to go a bit deeper, here's our list of best scanning apps along with their strengths and weaknesses.
Best Document Scanner: To Each Their Own
Adobe Scan
Adobe Scan is easily one of the best scanning apps there is. You can use it on any iOS or Android device for free. It offers a variety of scanning modes including Book, which allows you to scan a book spread, and ID card, which places both sides of an ID card on one page. It also has a wide selection of color filters. Some of them are useful, like black-and-white, for instance, while others like vintage look or crumpled are fun. Its OCR is excellent and free (though there is a limit of 100 pages) and it allows you to copy the recognized text.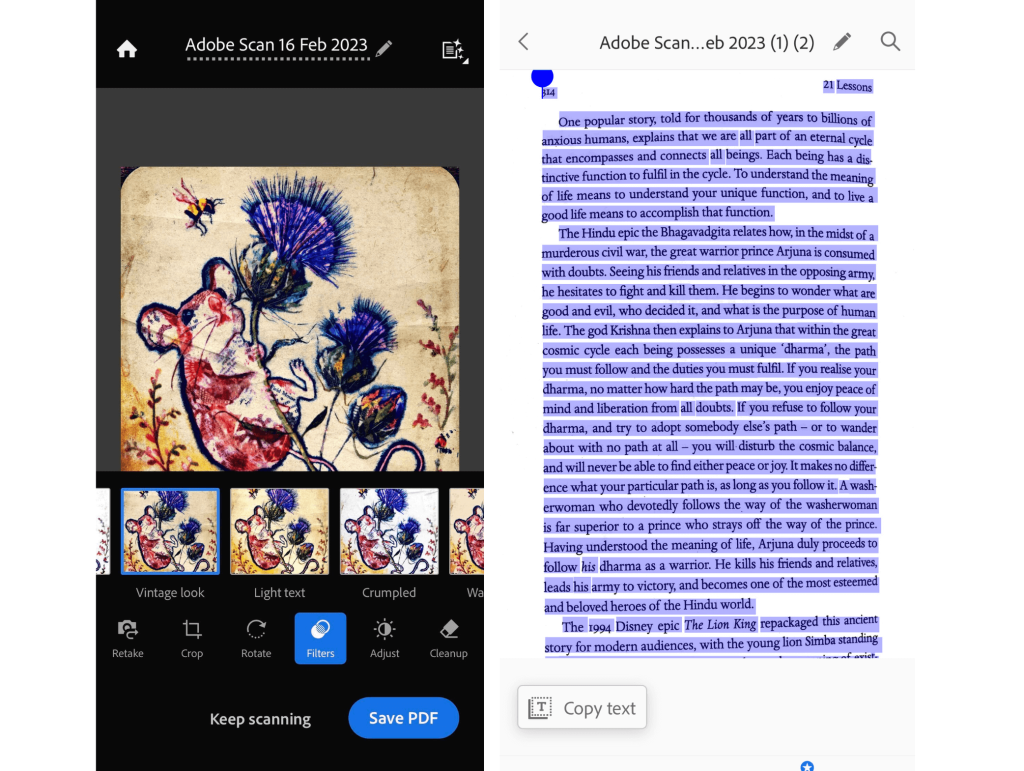 However, that's about as much as you can do with the app. If you need to edit your scanned documents, merge files, or sign, you'll need to install additional apps and for most editing features get an Acrobat Pro subscription. Need to synchronize your devices? Adobe can do just that, but you'll need to install Adobe Document Cloud and sign up.
If you already have an Acrobat Pro subscription and are a heavy user of Adobe products, Adobe Scan is probably the best choice for you. It integrates seamlessly with them and you'll have access to all the powerful editing features that allow you to edit your PDFs and scans on your desktop as well as mobile devices and collaborate from anywhere. If you're not a premium user of Adobe, you might find that 20 dollars a month can buy you features that are more interesting than basic editing tools.
iScanner
iScanner is a US-based app for iOS and Android that has won a Webby Award this year. This mobile scanning app generously provides a great number of editing tools for free that are only available for premium users in Adobe Scan or CamScanner, such as e-signing, merging and splitting PDFs, page numbering, watermarking, password protection, compressing PDFs, and more. Plus, it's the only document scanner app on our list that guarantees 300 dpi scan quality which is crucial if you need to scan a document for any kind of application.
What sets iScanner apart, though, is its AI-powered features. For example, Scan Straightener flattens the scanned page and removes warps and skews, Finger Eraser removes captured fingertips, and Deblur can unblur an out-of-focus scan. A smart filter called Clear can get rid of visual artifacts that often occur—glare, shadows, visual noise, and see-throughs.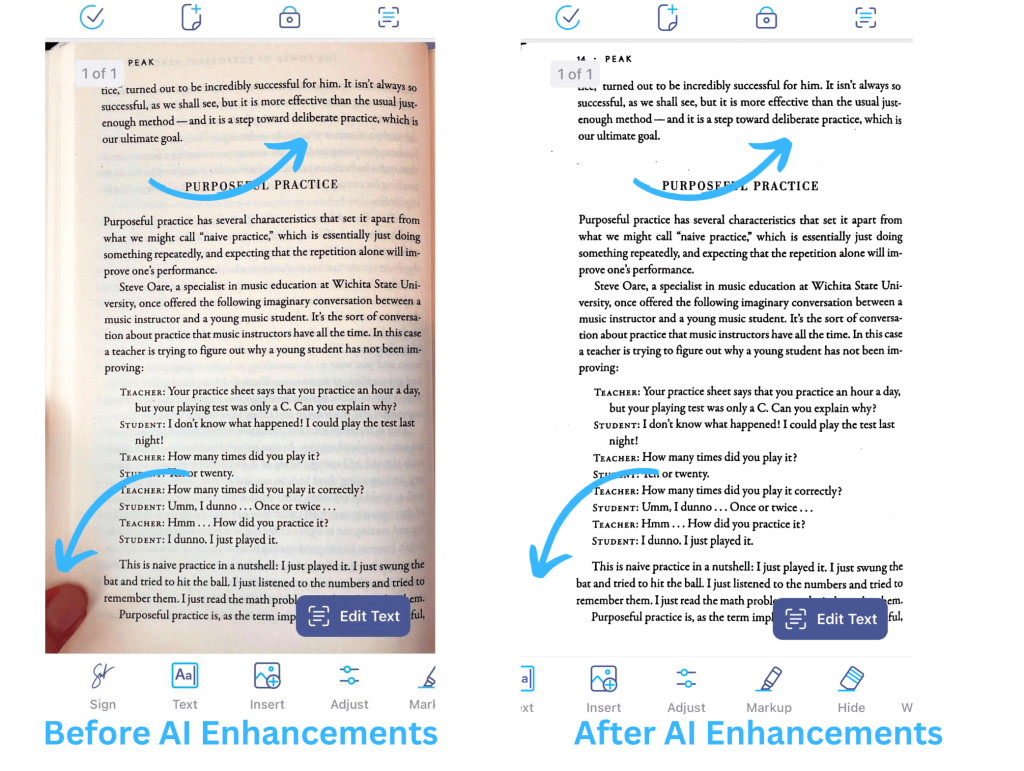 Recently, iScanner has released a feature that is basically ChatGPT for your paper and digital documents. It's a chatbot that can search the contents of your document for the info you need, summarize texts, and write and rewrite them. iScanner also offers cloud sync and storage for free that integrates with the most popular cloud platforms like Google Drive, Dropbox, and OneDrive. To top it off, Pradeo (a company that specializes in mobile cybersecurity) has named the app as the most secure in the mobile scanning app category.
On the downside, multipage scanning is only available to premium users (on iOS, though, Android users can scan away) and all the juicy AI-powered features including OCR require a subscription (you can try each one and see how it works for free, of course).
vFlat
vFlat is an awesome South Korean document scanner app that doesn't get the attention it deserves. It's a simple yet powerful scanning app that has some nifty AI-powered features. For example, Scribble Eraser can automatically remove scribbles and smudges on the margins which can come in handy if the previous owner of the textbook you're scanning enjoyed doodling very much.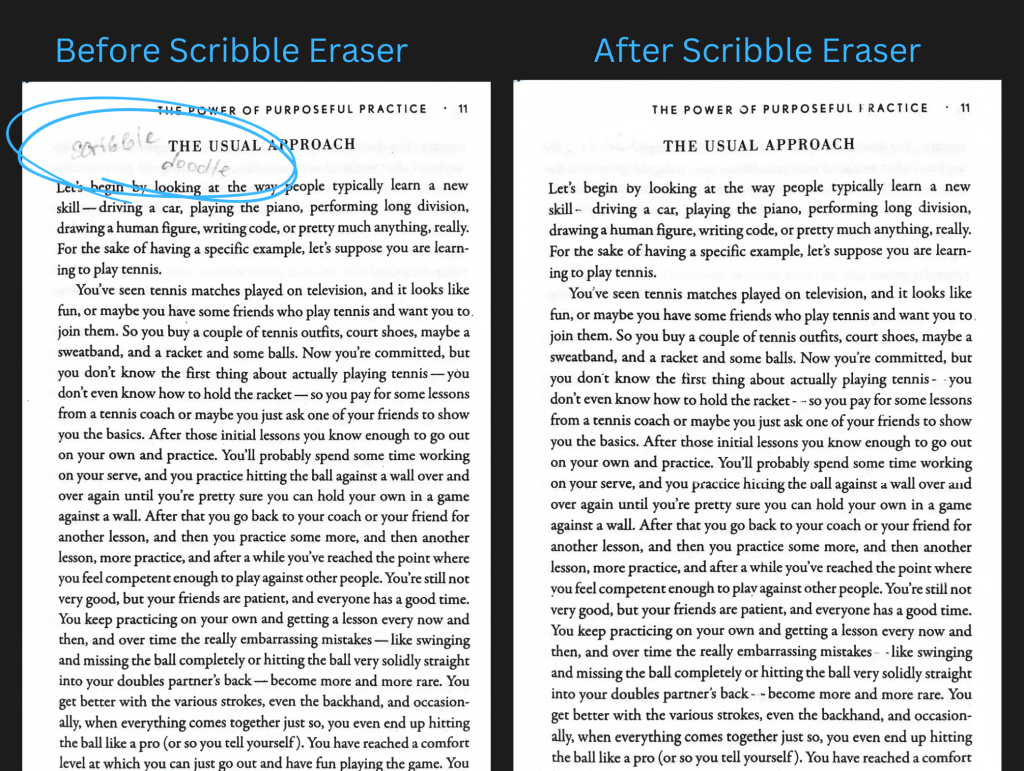 Also, it does an excellent job of flattening the scanned page and increasing the contrast between the text and the background in a document giving it a crisp and professional look. Its OCR is very decent too, maintaining paragraphs and headings. The OCR feature in vFlat is free, though there's a daily limit of 100 credits (one credit equals one page so that's more than enough for most users.) However, if you need more than that in one day, you can pay $1.99 for 200 and $3.99 for 1,000 pages. To top it off, it has an excellent book scanning mode where it scans two pages of the book spread simultaneously and saves them as separate files.
On the downside, the app lacks some features that users often need when working with scans and PDFs. For instance, you can't sign, merge or split PDFs, add text boxes, page numbers, or footers, highlight and cover parts of your document. Color filters are missing too, however, the app has an excellent auto-color mode that detects whether you're scanning a colored image or text and applies a color or black-and-white filter accordingly.
To sum it all up, if all you need to do is scan a page and nothing beyond that, vFlat is an excellent choice! It's fast, powerful, and free. Plus, the app won't spring annoying ads on you when you're doing something important, and won't apply branded watermarks to your document.
CamScanner
Camscanner has an extensive document editor, although most features, such as e-signature, watermarks, password protection, page numbering, merging, splitting, and compressing PDFs, converting to Word or Excel, and more are hidden behind a paywall.
In the free version, you can add text boxes, highlight, and obscure text, however, the editor won't let you alter or delete the changes after you hit Save, so be mindful unless you want to re-scan or re-upload your document all over again. Plus, the free version will apply a branded watermark to your document, should you need to share it, and occasionally ads might spring onto you. Batch scanning is available for free, though.
The premium version of CamScanner, in addition to the basic editing tools, has some interesting features. For example, ID maker allows users to make a photo suitable for various visas by taking a selfie or uploading one from their gallery. The translations feature allows you to recognize text and translate it right in the app (although, to be fair, we've got Google Lens for that).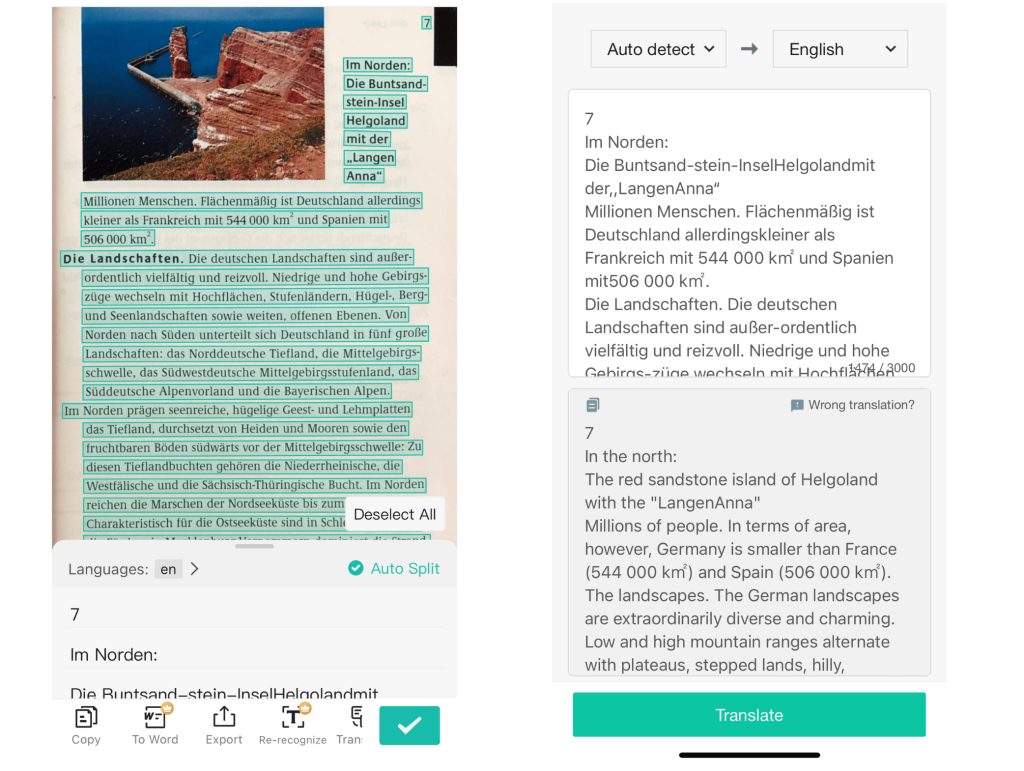 What's more, you should probably know that major concerns have been expressed regarding CamScanner's security. A couple of years ago, according to Kaspersky lab research, some malware was detected within the CamScanner app. The app has even been (and remains) banned in India and had a temporary ban in the U.S. which was lifted in 2021.
TL;DR and Key Takeaways on the Best Scanning Apps
Adobe Scan: an excellent solution for those who have an Acrobat Pro subscription. Offers fantastic scan quality, but for most editing features you have to get a subscription or install an additional Adobe app or both.
vFlat: a simple and excellent solution for those who only scan occasionally and don't need to edit or manage a lot of documents. Offers fantastic scan quality but little else.
iScanner: an excellent solution for freelancers, those who work remotely, or need to scan and work with documents a lot on the go—has an array of AI features to cope with less-than-ideal scanning conditions. Offers fantastic scan quality, 300 dpi resolution, and more editing features for free than most document scanner apps.
CamScanner: offers impressive scan quality and has some enjoyable features, such as an ID photo maker. However, most of the editing features are only available in the premium version. The free version has ads and will apply branded watermarks to shared PDFs.
We hope that this brief review will help you find the best document scanner that is perfectly tailored to your needs!