It was an ordinary workday for Oleg, a trucker from Eastern Europe, when he got stuck on the Swedish–Norwegian border with a shipment from Denmark.
"When I arrived at customs in Norway, I realized that I didn't have a customs declaration. To pick up the document and return to Norway, I had to drive 760 km (470 miles). This meant extra mileage, fuel consumption, late delivery, unnecessary vehicle depreciation, road tolls, and, most importantly, loss of precious time!"

Today, logistic companies are actively implementing new technologies to avoid such emergencies and boost productivity. They try to facilitate business processes by using different software and mobile apps, including scanning apps. Whether you work in the office or drive a truck, you deal with documents that need to be signed, saved, and shared. Scanning apps are real lifesavers in that regard. However, choosing a suitable app that combines a user-friendly form and useful function may be a tough challenge. But we know one. iScanner is a portable multifunctional office on your mobile phone that can take on dozens of different tasks! Continue reading to learn why it is an essential aid to everyone who works in logistics.
Best App for Scanning
If you're a trucker, you definitely know that feeling of being buried in paperwork. Invoices, powers of attorney, checks, permissions, and other documents haunt you on the road, as you need to scan and send them to the office as soon as possible. Finding a copy center in a city or country you've never been to may be challenging, to say the least.
In situations like this, you can use iScanner to scan documents wherever you are—in a busy city, tiny motel, or even in the middle of nowhere. This scanner app for Android and iOS digitizes any document, photo, or image while preserving ideal quality.
iScanner also offers various export options for sharing all types of files, from consignment notes to route maps, among your colleagues. You can export a necessary document to a group chat of your colleagues in any mobile app or send it directly to your boss's email.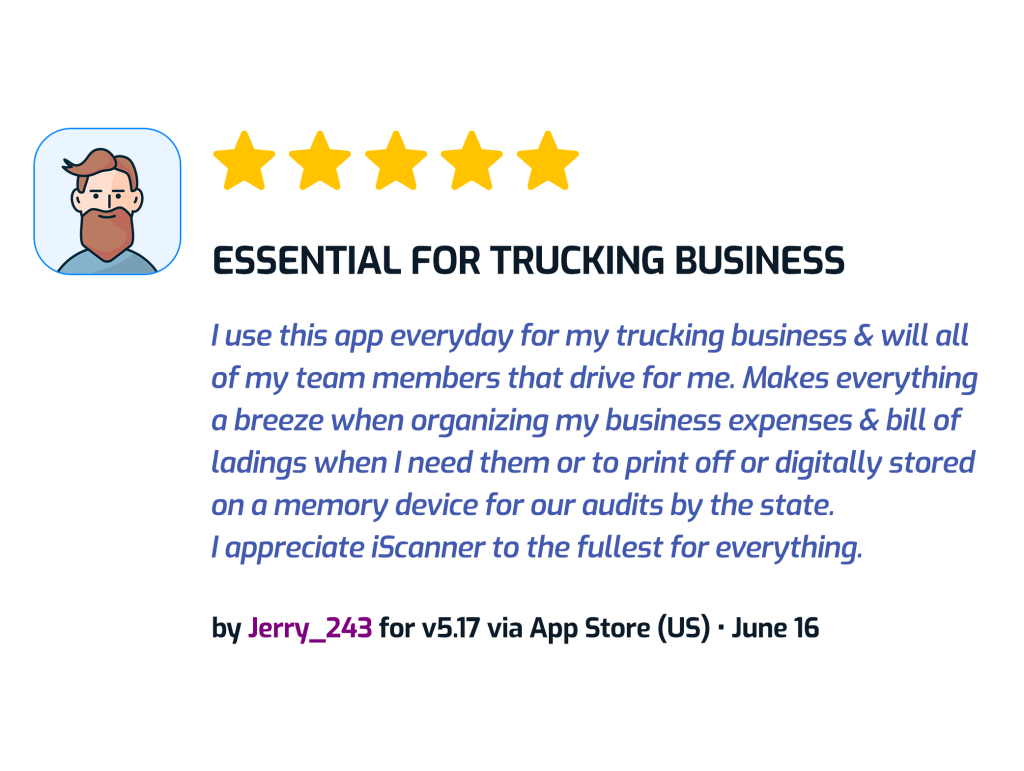 One iScanner—Many Features
iScanner provides a range of editing tools that can be implemented in logistics to simplify and speed up the processes. For example, did you know about the Signature tool? You can easily sign your invoices and contracts right on your device without having to print them.
Markup and Text tools are other features worth considering if you work in logistics. The Markup tool helps you highlight important parts of your files, like the destination point for your goods or your list of documents for custom officers. Using the Text tool, you can add text notes to your files, indicating which route is the shortest or which diner is the most truck-friendly.
A Mode for Every Need
But document-type files aren't the only ones you deal with, right? As a citizen, you have a passport or an ID card, and their scans are required to apply for a visa or get a credit card. To make scanning of these files easier for you, iScanner has introduced ID Card and Passport modes. ID Card and Passport modes scan the files without cropping or compressing them and preserve the quality of the documents.
Empower Your Business with Count
Logistics is all about numbers. All routes should be carefully calculated, and all goods in the warehouse need to be counted. Although we all learned how to count in elementary school, it can still be challenging if you need to do it accurately in a short time. Counting requires maximum attention—or a great mobile assistant. Luckily, with the Count mode, you can count objects around you using a mobile camera. Every time you need to update your inventory in storage, you can rely on the app to help you count objects in a matter of seconds.
iScanner is a reliable scanning app that can be used in every area, and logistics, which relies heavily on document maintenance, is no exception. Our development team also implemented features that go beyond scanning to make the app more helpful. You can count on iScanner to take on any document-related task in a few taps so that you can focus on the ride.
"Everything worked out once our company reached out to the customs office in Denmark," Oleg continues. "Luckily, my Danish colleagues agreed to scan my document and send it to me, allowing me to continue my journey."