"The art of teaching is the art of assisting discovery."

Mark Van Doren

Teachers play a huge role in people's lives, and our iScanner for Educators program successfully helps them reduce the burden of paperwork and make time for more creative tasks. As a result, the popularity of this mobile tool for teachers, educators, and professors is growing with each passing day. This printing center alternative provides professional educators and support staff with free access to iScanner PRO. You can learn more about what the PRO version has to offer here.  As more and more people are showing a strong interest in this program, we'd like to mention a few things. We believe this will make the registration process easier and help clarify who is eligible for the iScanner for Educators program.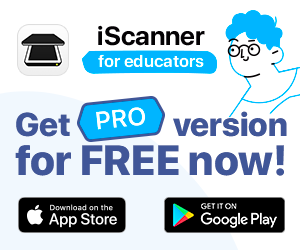 Who Is Eligible for the Program
Currently, the program is only available for educators and support staff in US, UK, Canadian, German, and French academic establishments.
Please note that registration is possible via your business email address only. So, to join the program, you should provide your LinkedIn profile address to our manager. After that, they will check your eligibility and request additional information if necessary. Each application will be reviewed manually, and the iScanner team reserves the right to deny access if the applicant doesn't meet the program requirements.
We may ask for your feedback on the iScanner for Educators program from time to time. This will help us a great deal to make our users' experience with the app more satisfying and the onboarding process smoother.
Don't hesitate to share this program with your colleagues. Let's work together to make the process of teaching simpler and more enjoyable!
If you have additional questions, feel free to contact us at [email protected]. We'll be happy to help you 24/7!